John Lennon Sunglasses Fashion
Posted at 4:30 pm • 15 August 2020 • Chelsea from Kraywoods
---
Whenever someone talks about John Lennon sunglasses, we have an image in our mind that is a pair of small retro round sunglasses with thin frames. In general, you can find these glasses with dark tinted lenses, and the style is trendy in itself. Now you can also find multi-tinted colours, and in a few cases, they are mainly designed to making visions aesthetic appeals for the eyes.
The waves of John Lennon Glasses don't just strike general people. Many famous personalities like - Ozzy Osburne also adopted round John Lennon sunglasses in their modified way. In the past few decades, many celebrities have joined the club of retro round sunglasses, which made them the talk of the town. Some of the renowned names are Liam Gallagher, Roger Daltrey, Mick Jagger, and now even Lady Gaga is also spotted wearing John Lennon frames in her publicity shots.
These glasses are not limited to the music industry only. It is also well followed in television programs and movies. The Matrix star Seraph also wore these types of glasses in the Matrix movie series, and these are not for adults only. It is a source of attraction for the young and kids as well. Sometimes some great style becomes popular and becomes the trendy—same case with John Lennon Style frames. Since the 1960's to it has been among one of the most popular styles.
---
John Lennon was the famous English singer and founder of the legendary band named "The Beatles." He was the man behind 'Beatlemania.' John's musical inspiration early drew from Elvis Presley. Then John collaborated with Paul McCartney, and that pair could form the most successful bands ever. During the '60s, there were extremely popular, (particularly with the ladies), the loving fans went crazy for songs like "She Loves You" and "I Want To Hold Your Hand." So much so, the intense fan frenzy was confined 'Beatlemania' and is reminisced even to this day.
After releasing the final of "The Beatles" names "Abbey Roads." He excellently collaborated with Elton John, David Bowie, and even his wife, Yoko Ono. They made have headlines during the Vietnam War with a peaceful protest contrary to the war known as 'bed-ins.'
John and Yoko sat in bed for two weeks at a time, sought demands to stop the war. This peace activist and the iconic singer had a tragic end after being assassinated by a crazy fan. Yet John Lennon lives on today because of the musical work and the John Lennon Wall in Prague. The famed wall serves as a symbol of peace, non-violent rebellion, free speech, and memorial.
Forever fashion staple: Teashade Sunglasses
Tea shade sunglasses were initially made from perfectly round lenses and thin wireframes, making their biggest coming out during the 1960s. Pop culture legends of that era, like - Ozzy Osbourne and Mick Jagger, sometimes sported Teashade sunglasses. That was such a contribution to the style's success, and there is no doubt about that.
But it was the English music icon, John Lennon, who has made the history for making the style an authentic and unique fashion staple. The Beatles singer/ songwriter sometimes used to wear these sunglasses with different frame materials and colourful lenses. Since then, Teashade sunglasses are known as "John Lennon Sunglasses."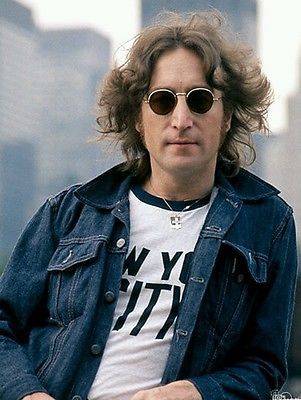 'THE' John Lennon Sunglasses
John Lennon's sunglasses bent around the bridge of his nose and linked two circle lenses that were somewhat larger than traditional Teashade sunglasses.
Last few decades, there have been several variants on the iconic John Lennon round sunglasses. These variations play with colours, frame shapes, and materials, just like the artist had done himself when Teashade sunglasses became so popular. But one thing for sure that no other sunglasses are fashionable and stylish like a pair of Lennon sunglasses.
From the '60s and '70s, many styles have made a comeback such as - denim jumpsuits and bell-bottom flares. But the exciting thing is that the John Lennon style glasses have never really been out of style.
John Lennon sunglasses have always been everywhere in one form or another. Vintage round sunglasses take on different types, but they remain spot-on to the "rebellious" design. There is even an entire collection of retro round sunglasses that deviate somewhat from the traditional Lennon style sunglasses. However, this collection continues to boost inspiration from the timeless look.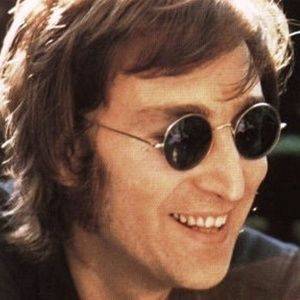 Strawberry Fields Forever
Tea shade sunglasses defined John Lennon very much that even when he tragically died, his partner Yoko Ono began to wear them regularly.
The Japanese artist and musician preserved the memory of her previous husband shining when on October 9, 1985. She inaugurated the "Strawberry Fields Plaque," a monument in Central Park, NYC, where the English songwriter was shot to death. The name is based on the famous Beatles song, "Strawberry Fields Forever." It shows jerry-rigged tiles on the floor of the park where black stones form the word, "Imagine." It quoted John Lennon's most famous song and became recognized as the "Imagine mosaic."
Still these days, many people perform the Beatles' and Lennon's songs in this special place, sometimes people wear his iconic sunglasses as well. They remember this legend for more than forty years since he left this earth on December 8, 1980.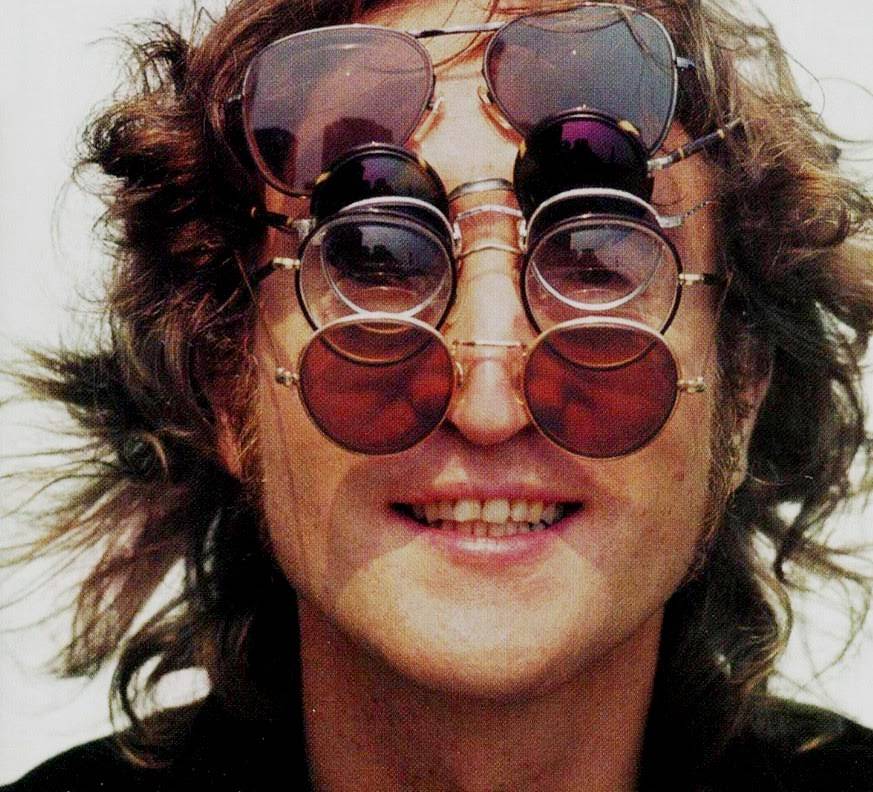 Our crush: The Lennon Sunglasses
Kraywoods Lennon sunglasses are inspired by John Lennon's iconic round sunglasses. Although the lens colour or frame shape doesn't directly copy from the original John Lennon style, these retro round sunglasses have a modern and clean feel and still have the classic design features. The features include polished Gold metal frame with a curved bridge and round shaped lenses. The sunglasses are accentuated with slim Zebra Wood temples for a modern and unique look. The brown and purple tones in both the John Lennon glasses frames and lenses also have the vibe to the colour palette of the '60s, and 70's when John started to rock this style. John Lennon made them unforgettable by wearing them on the front cover of the "Imagine album." In the official video of that song, John is sitting behind a piano, performing his most legendary song "Imagine" wearing a version of these pairs of glasses with orange-tinted lenses.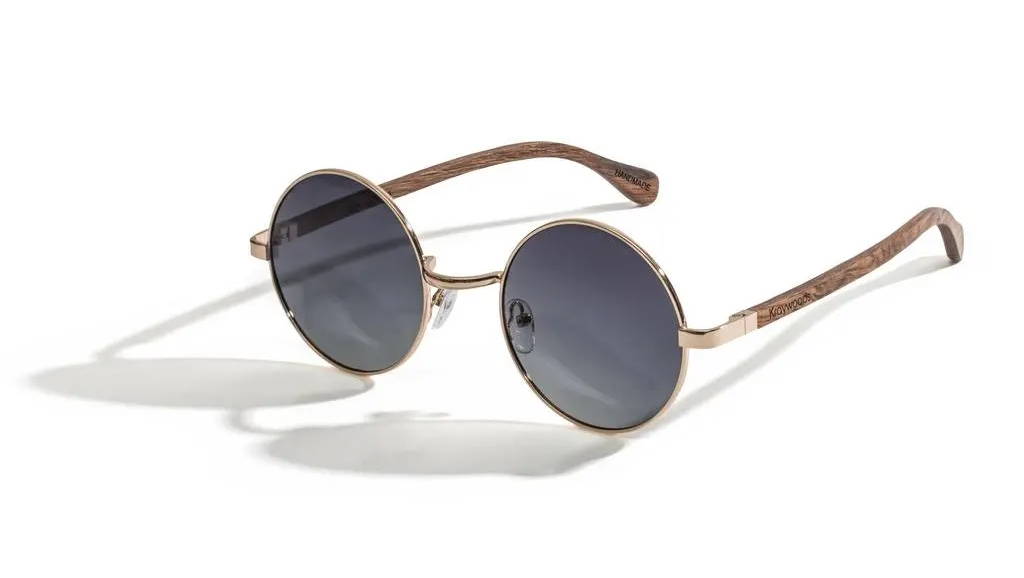 ---
Imagine - John Lennon & The Plastic Ono Band