Why Wooden Sunglasses Are a Great Trend in Canada Now
Posted at 3:57 pm • May 1 2020 • Chelsea from Kraywoods
---
Canada is a country that cares for style and pattern. Fashion is a part of its culture for better or worse. Many Canadian are not only adopting the latest swagger but also familiarizing it to suit the needs and sensibilities. They want to look themselves excellent and stylish, is that a crime?
Inherently Canadians are cool by default. Canadians are so fond of doing things differently. Because they appreciate looking good in the sun, so it does make sense that these people rock some new sunglasses that are extraordinary.
There is plenty of wood in Canada. Many people believe Canada is full of maple trees, but there are also many other spices. And because of the favorable forests environment, many craftsmen turned to wood. Wood sunglasses are made from eco-friendly wood. These sunglasses can float in saltwater, lightweight, and have boasted polarized lenses with UV protection so that you can use these in bright sunny days. Wooden sunglasses are quite affordable for all kinds of people, and many local companies produce them.
---
Environmental friendliness of wood
The materials of wooden sunglasses are woods that are sustainably sourced from trees or recycled from old furniture, skateboards, or any other wooden items. In this regard, the most commonly used woods are - walnut wood, rosewood, zebra wood, birch, maple, bamboo, ebony wood, oak wood, etc. All these woods are durable, lightweight, and comfortable to use in any season. Another important advantage is that wood is a long-lasting material, so you can use wooden sunglasses for a long time without any worries.  
We all know that trees give us oxygen to the environment. And they help to reduce the impact of climate change by taking in CO2 and pushing out oxygen. Even for harvesting purposes, the conservation and process of planting trees are always indispensable.
Let's talk about plastic sunglasses. An enormous amount of chemicals and energy is needed to make plastic sunglasses. Crude oil and toxic chemicals are used to manufacture plastic items, and these are highly unsustainable for the environment. Then these materials need to be processed and combined with many other elements to form large blocks of plastic. Then these blocks are sent to be machined and assembled to create the final product. As a result, it causes chemical and industrial waste that pollutes our environment, and we don't even notice it. All this occurs before the plastic even reaches the factory to be made into a plastic pair of sunglasses.
The vital issue is the byproduct. A plastic strip from crude oil and many other non-organic chemicals might enter the water supply system on earth or end up in our landfills. This causes serious damage to the environment and our planet, no matter what we do to try and minimize these negative environmental effects. On the other hand, natural sawdust is the only byproduct of wood, which is not harmful to the environment. If you compare the eco-friendliness and sustainability aspect of sunglasses, then it is no question that wooden sunglasses go for the win. With the increasing negative environmental effects of climate change, people are slowly becoming more eco-conscious in their behaviour and in the items that they purchase. If you're looking to make more conscious choices in life, then wooden sunglasses is definitely the choice to make. That is the reason why many countries, including Canada, have now turned to wooden sunglasses and it has now become one of the top trends in the eyewear industry.
Benefits of wooden sunglasses
Wood is a material that was not commonly used in the fashion industry in the past, but it is slowly becoming more and more popular. You can now find wood infused in many fashion accessories made by high-end brands and designers. Wood is a material that can now be seen in eyewear, jewelry, fashion accessories such as handbags and purses, and much more. The popularity of wood is not only due to the fact that it's a sustainable and eco-friendly material. In fact, there are many other benefits to wood, especially in eyewear. Let's explore some of these benefits of wood sunglasses below:
Eco-friendly: People choose to buy wooden sunglasses rather than plastic ones, then they do their part to protect the environment from a harmful element. So the crucial benefit of selecting wood goes beyond the personal interest as we all want better sustainability of this earth over anything else. You can learn more about

eco-friendly and ethically made sunglasses on our blog

!
Natural: Wood is a natural and non-toxic material, it doesn't cause skin allergies and it is hypoallergenic.
Durability: Woods is a durable and eco-friendly material. For all stylish sunglass lovers in Canada, it has become the ideal choice because of the combination of

quality

and durability.
Lightweight and comfortable: Sunglasses are very light, and they are comfortable to wear as well in any season. If you wear them all day long, you don't even notice that you wear them for such a long time.
UV protection: The principal advantage of using wooden sunglasses is that they give us protection from injurious ultra-violate (UV) rays of the sun. The polarized lens and poly bi-carbonate give our eyes protection from harmful UVA and UVB rays.
Uniqueness: Made from authentic natural wood, every wooden frame is unique in its grain, colour and texture. Metal and plastic frames are mass-produced and generic. Wooden sunglasses are considered high-end eyewear because each pair is handcrafted piece by piece with attention and care from natural wood. Wooden sunglasses provide a classy and distinct look. Find out more about all the

reasons you should invest in high-end eyewear

on our blog!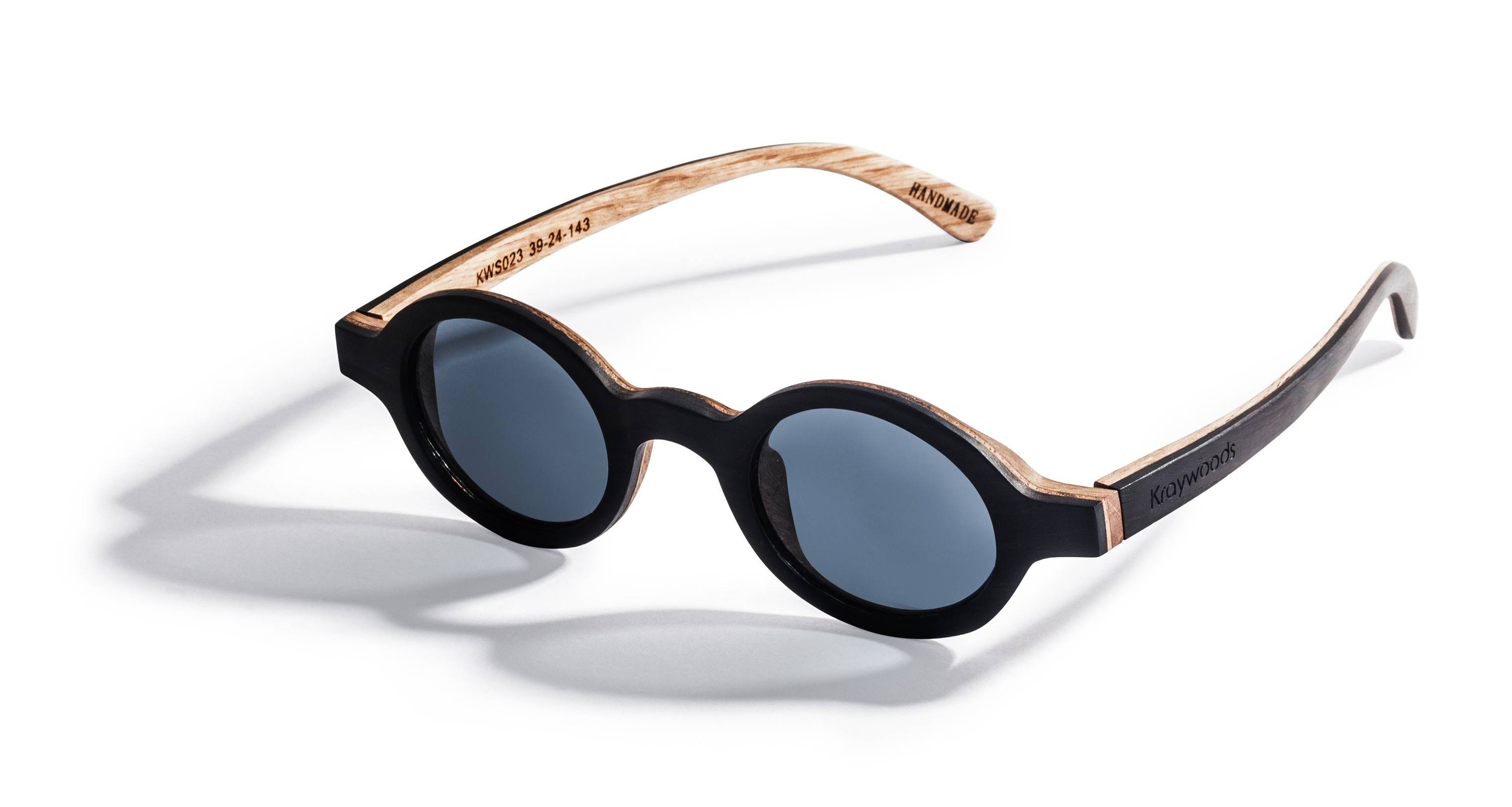 ---
In Canada, Wooden sunglasses have become increasingly popular. General people, as well as the celebrities, wear wooden sunglasses and it is a trend now in this country. There are many sensible reasons why people choose to use this item. Compared to any other materials, wooden sunglasses are more elegant. In the world of eyewear, wood is a new material, and wooden eyewear can be – prescriptions, reading glasses or sunglasses, or sunglasses. In Canada, young people do like this because the best thing about wooden sunglasses is that it can suit any outfit. No matter if you have a formal or casual outfit, the natural tone of the wood is merely exceptional. Say you are planning to go to a party with your friends. Then you must have a formal outfit like many people. At this time you can choose wooden sunglasses with your formal attire, as well as match it with any casual outfit you might be wearing any day. And trust me, you will look great. You can wear them for a day on the beach, when you go for a drive on a bright sunny day, or even for an afternoon walk in the park to protect your eyes from the sun's harmful UV rays.
Apart from all of these, wooden frames are comfortable for eyes, and they provide great coverage for the eyes from the sun. People in Canada choose polarized wooden sunglasses, to eradicate the reflection of the sun on the surface. One has the option to opt for various styles, shapes and designs like – rectangular wood sunglasses, aviators, wayfarers, round wood sunglasses, square wood sunglasses, mirror wood sunglasses etc. Even the wooden sunglasses fall into the ground, they don't break easily. These sunglasses are lightweight, waterproof, and on top of that, they are super stylish. Those are the reasons why wooden sunglasses are now a trend for all ages of people and very famous in Canada. To find out more about wooden sunglasses, check out our blog: Everything you need to know about wooden sunglasses.