Best Ways To Clean Glasses
Posted at 3:00 pm • 28 May 2020 • Chelsea from Kraywoods
---
It is essential to clean your eyeglasses every day to keep them looking great and in good shape, as well as prevent any damages from everyday wear and tear, such as nicks and scratches on your lenses. When it comes to cleaning your glasses, there are many ways of doing so, but not all methods are recommended. Some cleaning methods are ideal more than others, and some should be avoided entirely. There are many easy steps and recommendations you can follow to keep your eyeglasses risk free from any scratches or other damages. These cleaning tips will keep your eyewear in great shape and ensure a more extended durability.
---
Here are some glasses cleaning and care tips to follow:
Here are some glasses cleaning and care tips to follow:
▪ Before cleaning your eyeglasses, you need to make sure that your hands are clean and free from lotion, grime, dirt, or any other things that might transfer to your lenses. To clean your hands, you can use dishwashing liquid, lotion-free soap, and a lint-free towel.
▪ The next step is rinsing your glasses by using lukewarm tap water. This will help to remove dust or other debris, which will help avoid scratching your lenses when cleaning them. Don't use hot water, which might damage some of the eyeglasses lenses.
▪ Now drop some lotion-free dishwashing liquid to each of the lenses of your eyeglass. Most of the dishwashing liquids are concentrated, so make sure to use a little amount. Instead, you can apply a drop to your fingertip.
▪ Then gently and smoothly rub both sides of the lenses and all portion of the frame for a few seconds. Make sure to clean all the parts od your glasses, including the nose pads and the edge of the temples that rest behind the ears. And also, clean that zone where the brink of the lenses meet the frame, as dust, debris, and skin oils tend to accumulate in that area frequently.
▪ Now thoroughly rinse frames and both sides of the lenses. If you don't remove all traces of soap, it might leave some smears on the lenses once dried. Make sure to rinse thoroughly and remove all traces of soap.
▪ To eliminate the water from the lenses, mildly shake the water off the glasses. Carefully inspect the lenses to confirm that they are clean. Using a lint-free soft cotton towel, gently dry the lenses and the frame and let sit a few minutes to dry. Make sure the towel you use to dry your glasses is clean and free of any dirt. Otherwise, you may risk scratching your lenses.
▪ Finally, it would be best to inspect the lenses one more time. If any smudges or streaks are remaining, then remove them by using a clean microfiber cloth. You can find these types of lint-free cloths at any optical shop.
If you don't have the supplies mentioned above to clean your glasses, you can consider pre-moistened disposable lens cleaning wipes. These are specially made with a gentle solution to safely clean glasses.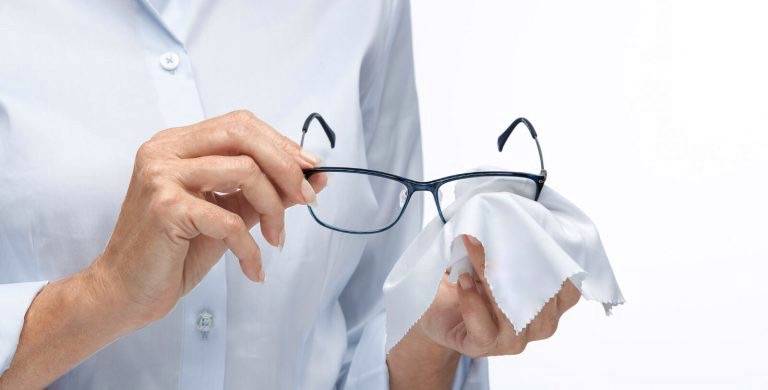 Things to avoid while cleaning your glasses:
▪ Avoid using a shirt or any other clothing to wipe your lenses, especially when they are dry. Doing so will only move around the dirt particles that may already be on the surface of the lenses and will risk causing scratches.
▪ To clean your glasses, don't use surface or household glass cleaner. These products contain some ingredients that can damage the lenses and coatings, like anti-reflective coating.
▪ To clean lenses, don't use tissues, paper towels, or napkins. They can also scratch or smear your lenses as well.
▪ Trying to "buff away" any dirt or spots with your fingers will make the situation worse, so avoid doing so.
If there is no tap water available in your place, to rinse lenses before cleaning, you can use a lot of the spray eyeglass cleaner to flush away dirt and other debris before wiping the glasses dry.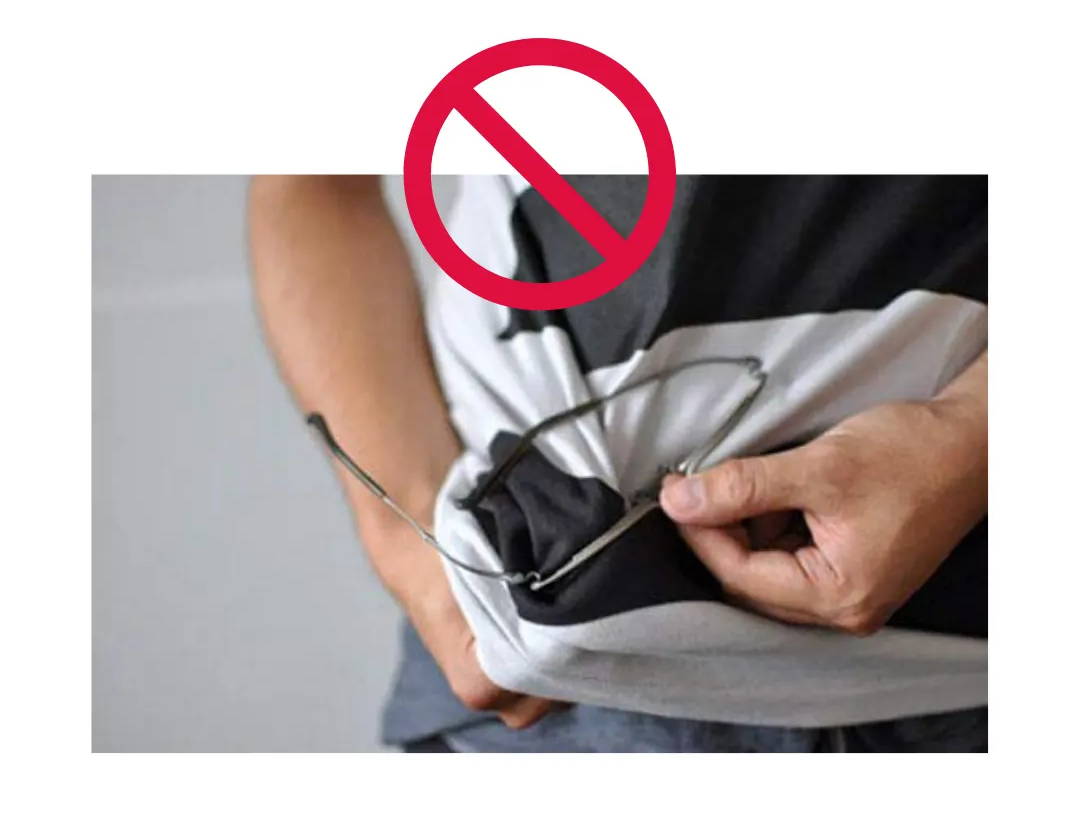 Glasses cleaners and cleaning cloths
You can buy glasses cleaner solution at any local eyewear shop or drugstore. Glasses cleaner solutions come in a spray bottle, making it very easy and simple to use and clean your glasses. If you're a regular glasses wearer, we recommend always keeping a bottle of glasses cleaner liquid in hand. These cleaning solutions are made to be gentle and help preserve any coatings on your lenses, allowing you to prolong the durability of your glasses. If ever you happen to run out of liquid in your glasses cleaning spray bottle and don't have the time to go out and buy a new one right away, you can refill the bottle with water and a drop of dish soap, which would make for a great DIY glasses cleaning spray. Another solution to clean your glasses are individually packaged pre-moistened disposable lens cleaning wipes. These are also very practical to carry wherever you go. When using these lens cleaning wipes, keep in mind always inspecting the lenses for dust or debris first to avoid scratching your lenses.
Microfiber cleaning cloths are also an excellent option to clean your glasses. These cloths effectively dry the lenses and trap oils to avoid smearing. But since they trap debris or dust effectively, you need to make sure that you clean the fabrics frequently. Use lotion-free dishwashing liquid and clean water to clean the cloth and make them dry after cleaning.
How Can You Remove Scratches From Eyeglass?
There is no magic rule to remove a scratch from eyeglasses. When your glasses are scratched, they are scratched. Depending on the scratch, if it's on the surface and not so deep, there are some DIY hacks and products that you can use to help fix scratches on your lenses and make them look less visible, but keep in mins that these are temporary solutions. Some of the products on the market are waxy substances that can fade quickly, so you would need to reapply them on your glasses regularly. Depending on the depth of the scratches and the location, you may have to get yourself a new pair of glasses or replace the lenses. When purchasing your glasses, make sure to select lenses that have a durable scratch-resistant coating to ensure a long durability for your lenses.
When You Need To Clean Glasses Professionally
Despite cleaning your glasses regularly and taking good care of them, you may sometimes find that there are some accumulations of dirt around the nose pads, on the temples or other components. To get your glasses thoroughly cleaned, you can see your optician, and they can use special cleaning tools or solutions to solve this issue. Sometimes by using an ultrasonic cleaning device, you can thoroughly clean your eyeglasses and have them looking like an almost brand new pair again. We don't recommend trying ultrasonic cleaners at home, so make sure to visit your local optical store if you feel that your glasses may need some extra cleaning.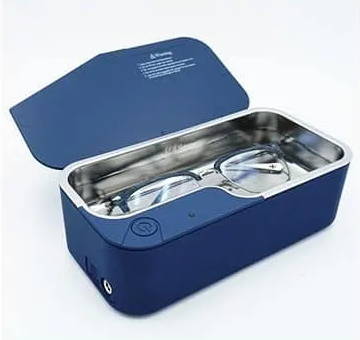 Your eyeglasses lenses can easily get scratched if you don't store them properly. Always remember to store your eyeglasses in a clean storage case or microfiber pouch. When not in use, avoid leaving your glasses in the car, or putting them down on surfaces with the lenses facing down. For more tips on how to care for your glasses or sunglasses, check out our blog here.
---
Watch Below: 33 Brilliant Glasses Life Hacks